Next Level Jobs provides tuition-free training that prepares Hoosiers for in-demand, quickly growing job industries like manufacturing, construction, business and healthcare. Click here to see how Next Level can help you!
https://5il.co/1g4aq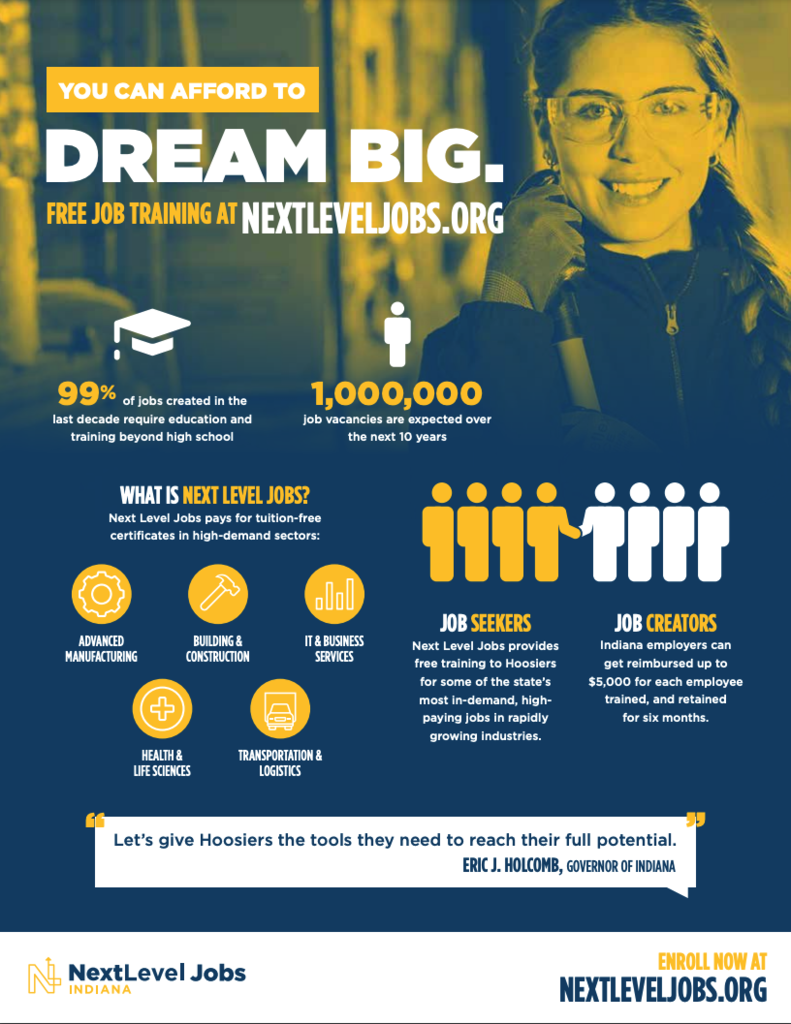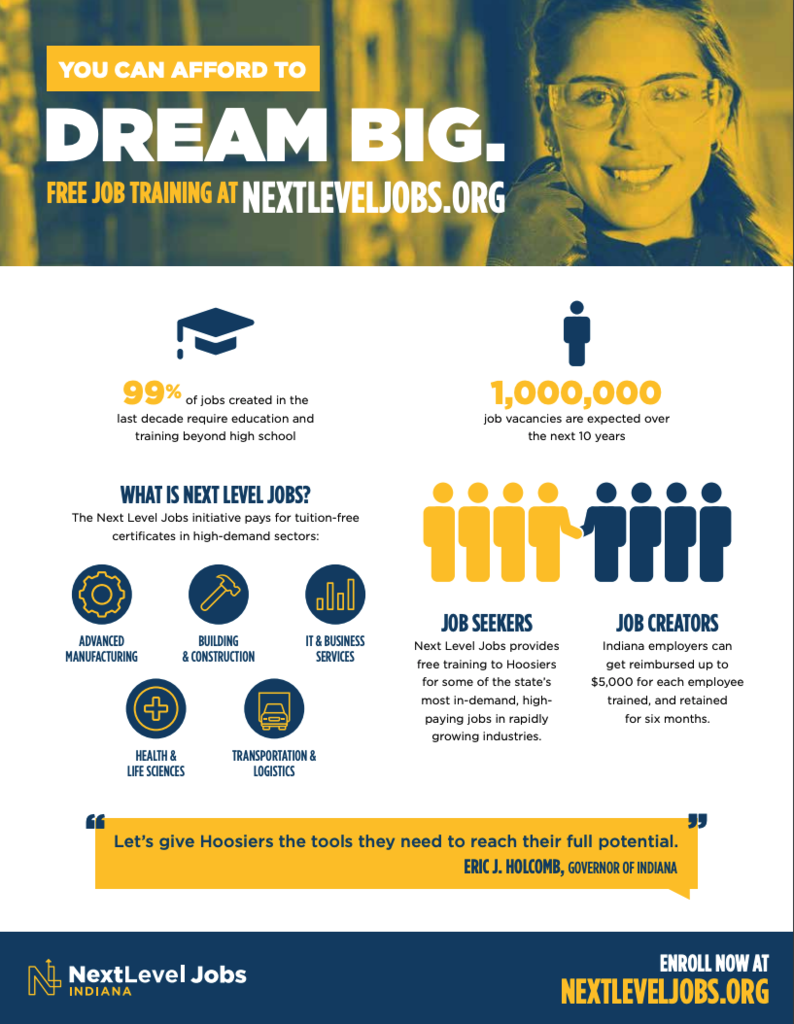 We will be having an immunization clinic to help students get up to date on their immunization schedule. Students entering 6th grade and 12th grade are required to additional immunizations. This will be hosted by Franciscan at River Forest High School on Monday, August 1st from 2p-6p. You can enter through door A. Most insurances are accepted and there are programs available for anyone uninsured. You can call Cara Popenhagen on Monday at 962-7551 ext 3011 with any specific questions regarding your child's immunizations. The immunization schedule for k-12 students can be found at
https://www.in.gov/health/immunization/files/2022-2023-School-Immunization-Requirements-C-19-update.pdf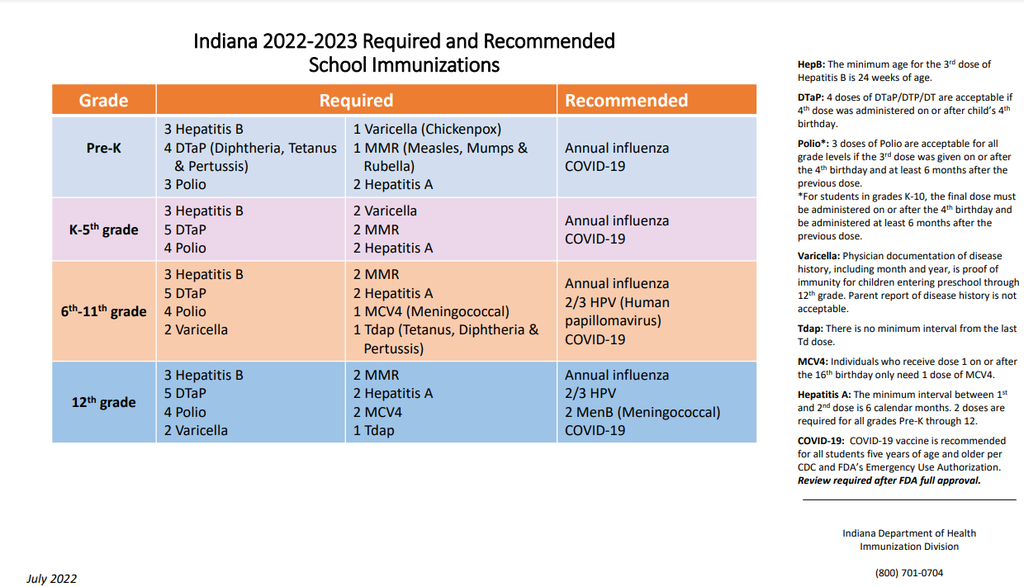 Information regarding 6th grade Orientation has been emailed to all 6th grade families. They will also be mailed out beginning tomorrow. Quick Details: 6th Grade Orientation Day: Friday, August 12 Time: 7:30-10:30 Students arrive and leave school the same way they would during the school year. Free breakfast will be served upon arrival. Orientation is for 6th grade students only. First day of actual school is Monday, Aug 15. Mr. Horka

The Northwest Indiana Food Bank will be holding a Mobile Market at Evans on Tuesday, July 26 between 1 and 3. Stop by for FREE FRESH FOOD! Any community members welcome!

Please see the attached flyer for additional information about the RFCSC Summer Meals Program.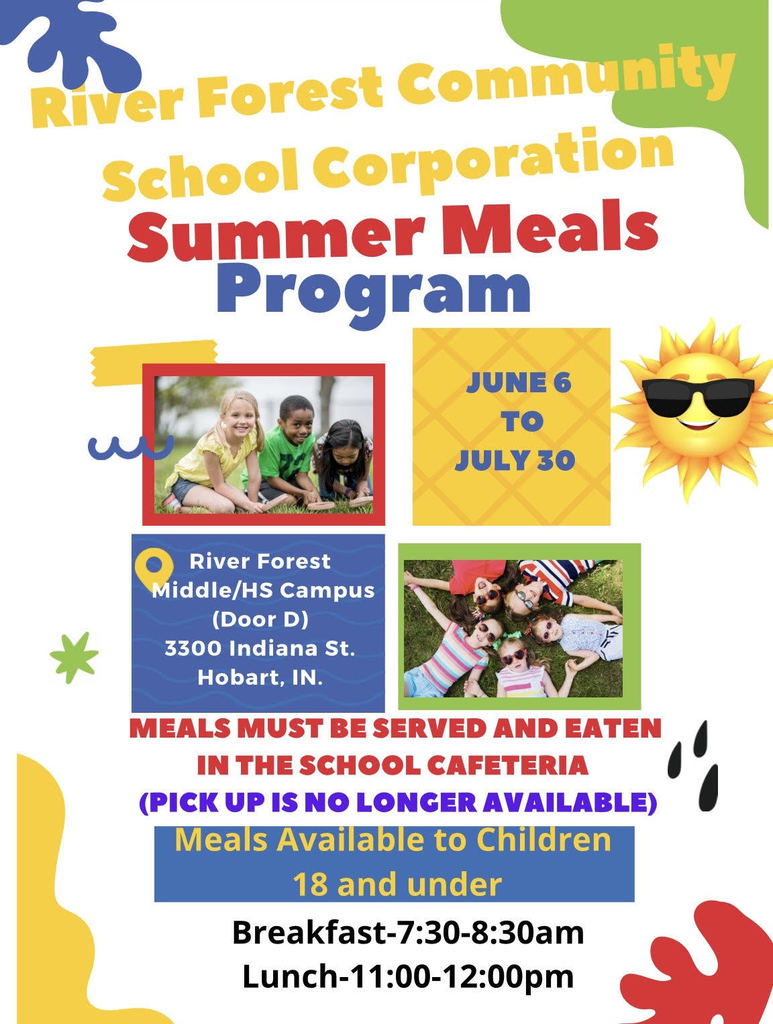 Due to a gas leak in the cafeteria, the Middle and High Schools are closing for the rest of the day. Students have been evacuated and may be picked up at the football field. Bus riders will be transported home via school bus.

Please see the attached flyer for 2022-23 registration information.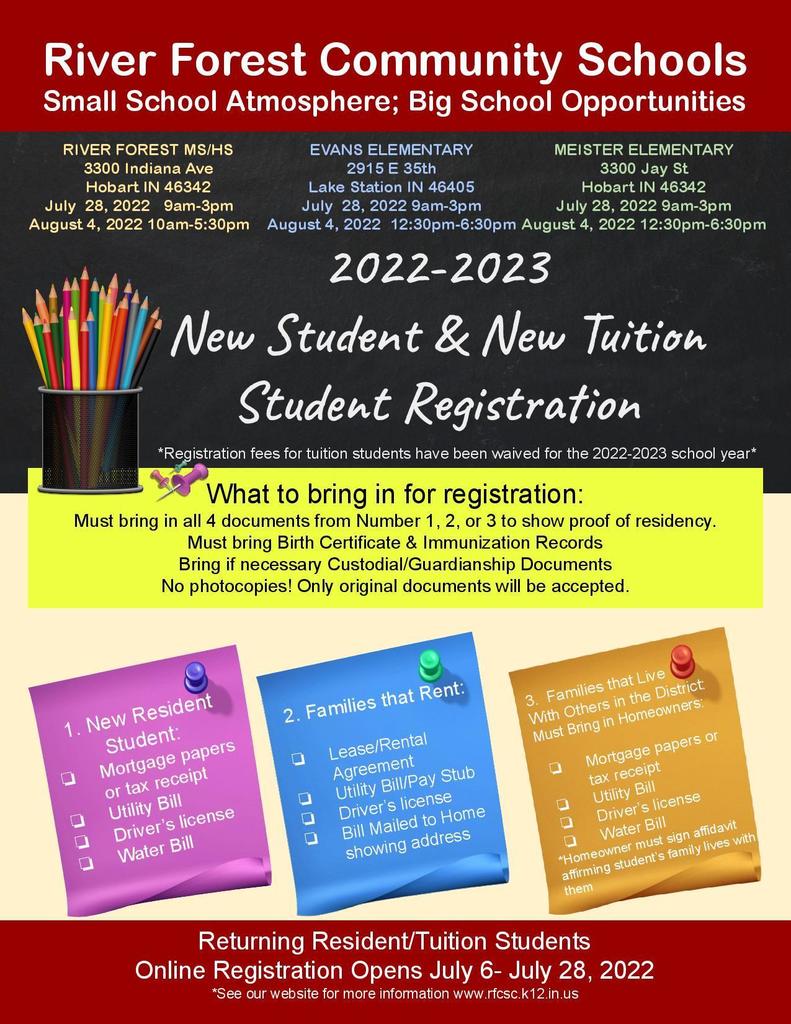 The River Forest Community Scholarship Program has awarded a total of $160,000 worth of scholarships over the last 30 years to members of those graduating classes. If you are interested in donating, check out the attached document!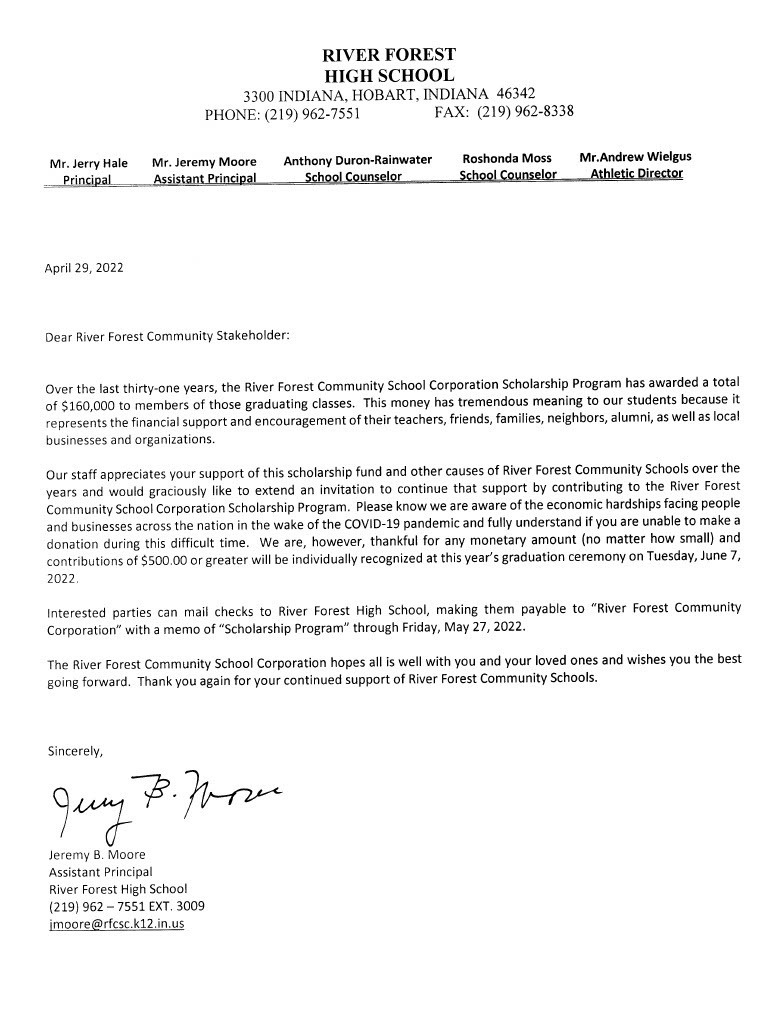 River Forest Students can attend the Boys & Girls Clubs Summer Camp for Free. Through a partnership between Boys & Girls Clubs and River Forest Schools, any student attending River Forest is eligible for FREE summer camp in 2022 at Lake Station Boys & Girls Club.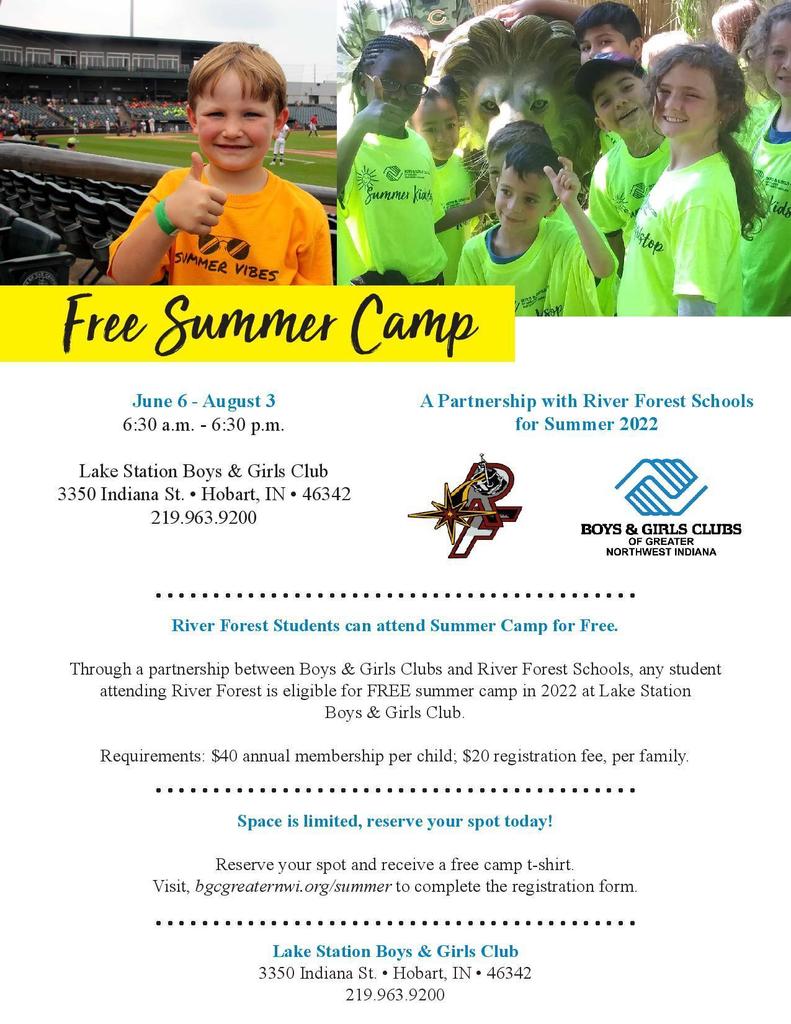 Mobile Market, by FoodBank of Northwest Indiana, will be at Meister Friday, April 15. 2-4pm. Please see the flyer for additional information.

CROSSROADS YMCA SUMMER 2022 Register online at crymca.org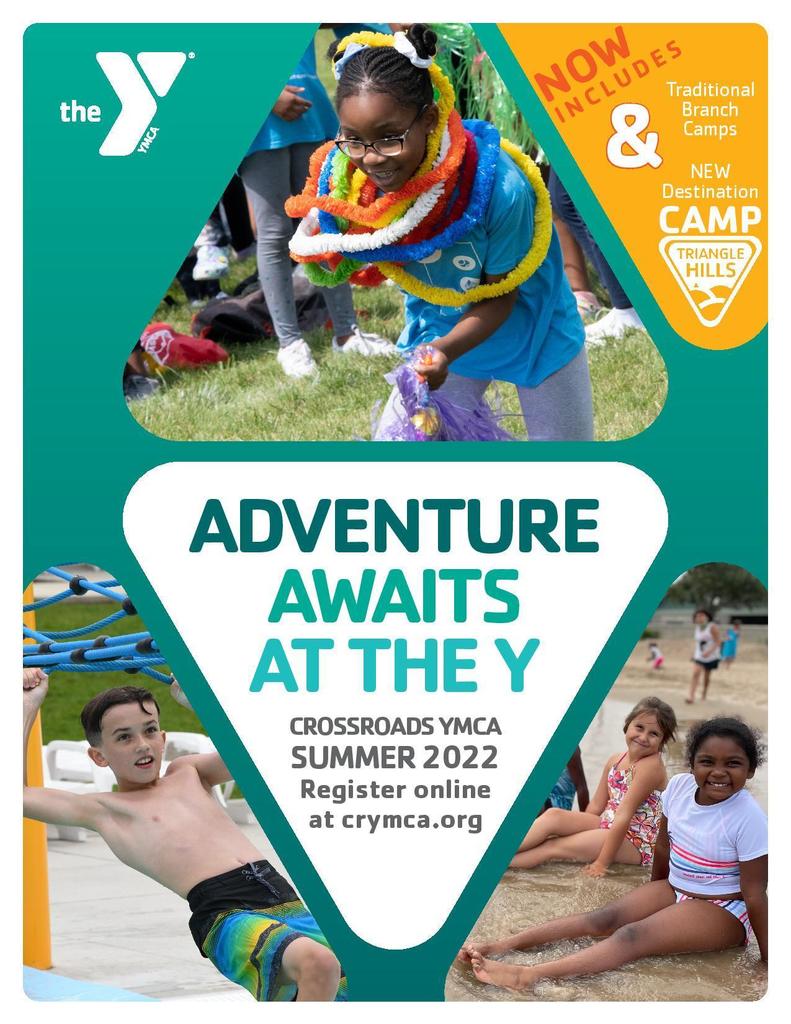 Reminder that virtual/phone parent teacher conferences will be held Thursday, March 31 from 3:15-6pm. Please contact us at 219-962-7551 to reserve a time.

The Board meeting scheduled for Tuesday, March 15 will now be held on Thursday, March 17, 2022, at the River Forest Learning Center Door 1 at 4:45 p.m. There will be a Public Hearing of the Superintendent's contract (effective July 1, 2022) on Thursday, March 17, 2022, at the River Forest Learning Center Door 1 at 4:30 p.m. Public testimony will be taken at this hearing pursuant to Indiana Code 20-26-5-4.3 regarding the Superintendent's contract.

Good afternoon River Forest Community Members, The extension of the child nutrition waivers was not included in the Omnibus spending bill posted today by the Senate Appropriations Committee. If the waiver extension is not included in the final bill, the waivers will end on June 30, 2022, causing millions of children to face a hunger cliff when they lose access to summer and school meals. These waivers have been critical in supporting nutrition operations so that children have access to school, afterschool, and summer meals throughout the pandemic, and they are still needed to help schools and families recover from and respond to the economic, health, and educational fallout. This will massively affect K12 nutrition programs. If you have a few minutes, please reach out to Senators Braun and Young and request that the waivers be added to the Omnibus Bill. Friday is the deadline to encourage them to support the waivers as the senate votes on Friday! Senator Braun Email:
https://www.braun.senate.gov/contact-mike
Senator Mike Email:
https://www.young.senate.gov/contact/email-todd

Pre-K Registration - April 5th. Please see the flyer for additional information.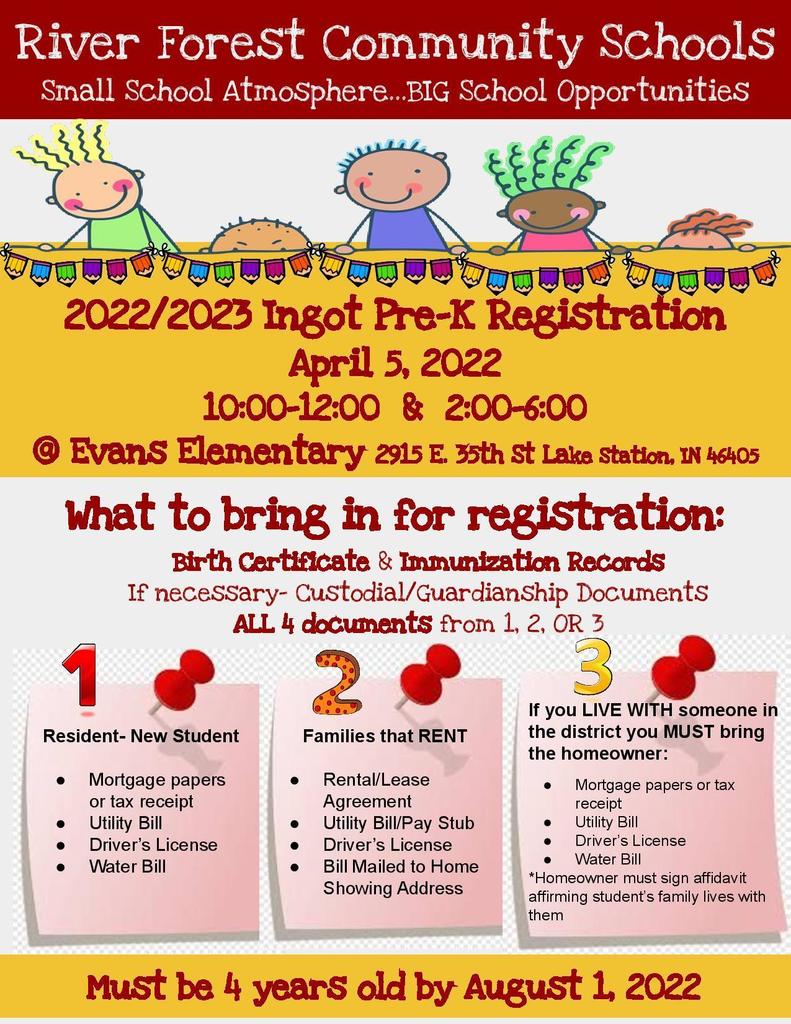 Kindergarten Registration - April 12 & 14. Please see the flyer for additional information.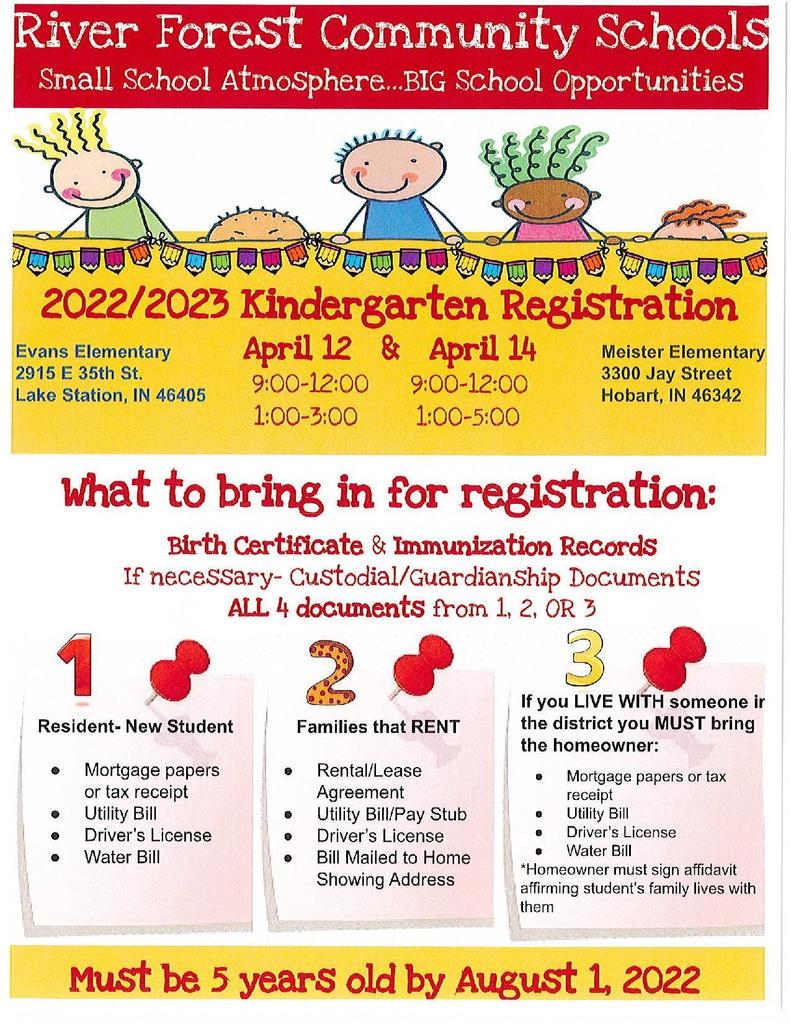 Good evening River Forest Families, Because of recent changes in school guidelines by the Indiana State Department of Health for COVID-19 quarantine protocols and reporting procedures, River Forest Community School Corporation will begin to operate as mask optional effective immediately. Please note, there still is a Federal mask requirement on all busses, so River Forest will still need to follow these procedures until the FTA changes this requirement. Families will still be allowed to wear masks if they choose, but there is no requirement for masks except for on busses effective February 23, 2022 7:00 pm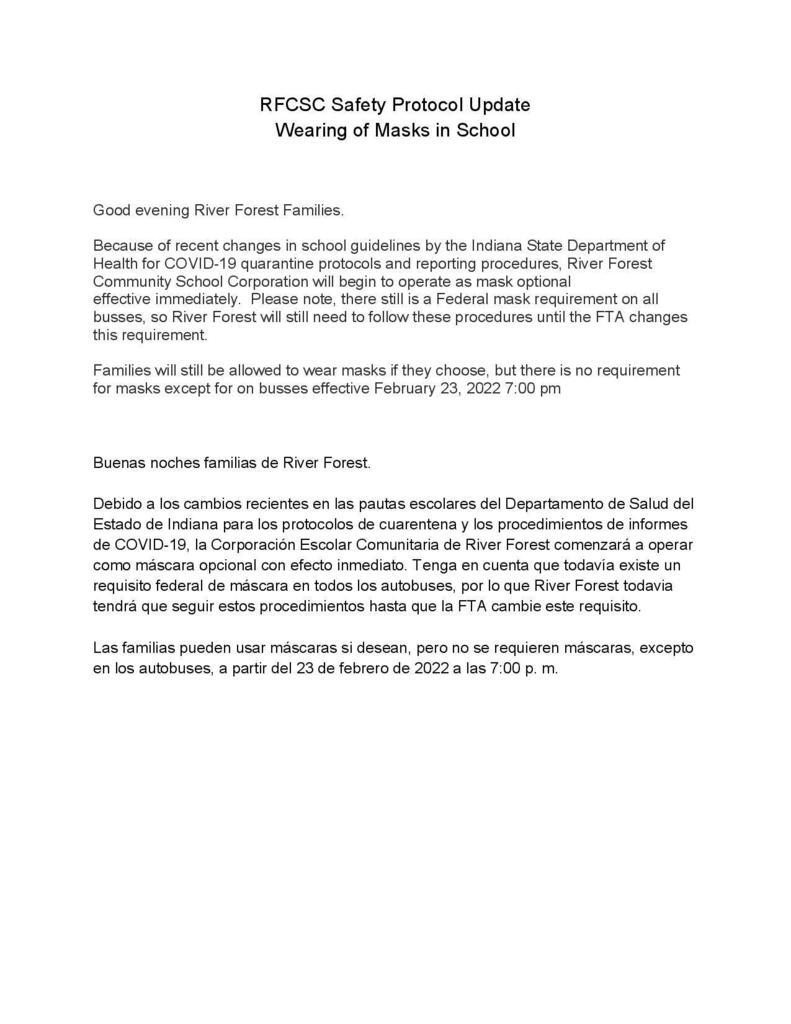 Masks are now optional at all RF Schools. Masks are still mandatory on all school buses.

The Board meeting scheduled for Tuesday, Feb 22 will now be held on Wednesday, February 23 at the River Forest Learning Center at 6:00 p.m.