Info regarding 6th Grade Orientation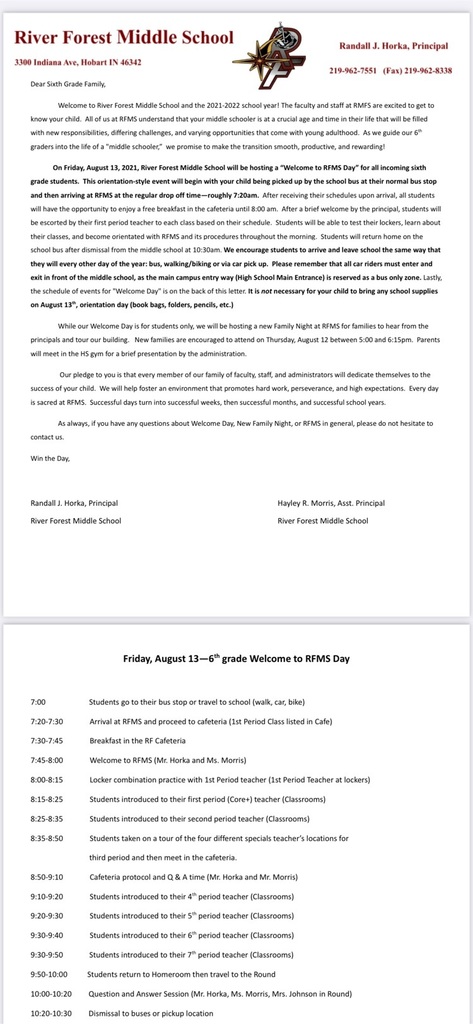 Michelle Martin, thank you for contributing to the success of River Forest students with your White Level donation to RF's scholarship fund!!!

NorthShore Health Centers will be here to provide Wellness Exams, Sports Physicals and/or any needed vaccines. See flier for more information. Be sure to call and register for an appointment. Vaccines must be up to date on the first day of the new school year. (this includes exemption paperwork). COVID-19 vaccines will NOT be available at this site.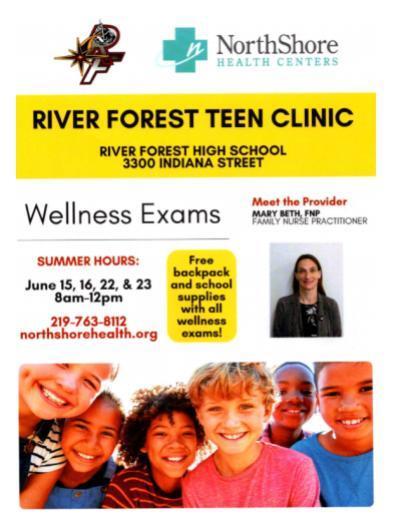 Remember today js a delayed start B day! Schedule is posted to all Google classrooms! Classes begin at 8:30 with 5th Block.
Deadline has been extended through Friday!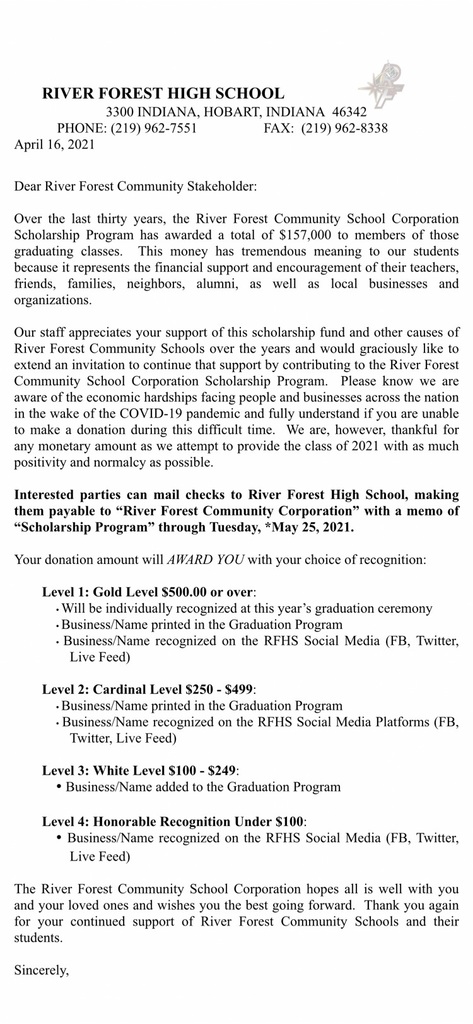 Please see attached letter regarding RF Scholarships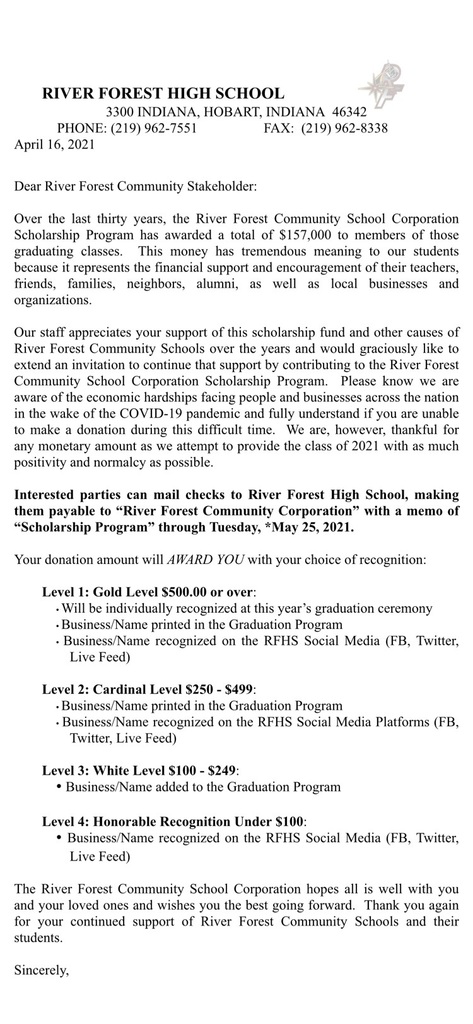 Dear 8th grade families, I'm happy to announce that River Forest Middle School will host a live 8th grade graduation inside RF this year! Here are the important details: Date: Tuesday, June 8th Time: 10am Location: River Forest High School Gymnasium Who: All 8th grade students (remote and in person) Tickets: maximum 2 per student Pick Up: Tickets can be picked up beginning Monday, May 24th in the main office In order to safely meet the requirements of the Lake County Health Department and the River Forest Return to Learn Plan, students will be seated 3-6 feet apart on folding chairs on the gym floor. Parents/guardians are asked to sit together, but distanced from other families on either side of the gym bleachers. A strict limit of 2 tickets per student will be enforced. Per the Lake County Health Department and the River Forest Return to Learn Plan, all attendees must wear a mask inside River Forest. Dress: Students are encouraged to dress up for the event. No jeans or shorts will be allowed All 8th grade students in attendance will receive a certificate of completion and any class specific awards in a file folder after their name is called---similar to a high school graduation. Unlike years past, we will announce the recipients of awards, but not receive awards one at a time. The entire ceremony will last approximately 45 minutes. Parents may sign their 8th grader out after the completion of the ceremony. Bottled water will be available. If you have any questions, please do not hesitate to contact me. Thank you, Randy Horka, RFMS Principal

St. Joseph's Carmelite Home in East Chicago experienced a fire this past Sunday and they need our help. They are a local resource that offers emergency shelter care, support for teen mothers and infant care, as well as residential care for children. If you are interested in helping out, you can drop off items listed in the attached image to any vestibule at a RF school. Let's come together as a community to help out!
Happy Mother's Day Ingots!
RFMS Boys Track wins the Jr GSSC Conference! Congratulations boys and Coach Thompson and Coach Arnold!

Boys & Girls Club, Free Day for Kids, Saturday, May 15 11:00 a.m. - 2:00 p.m.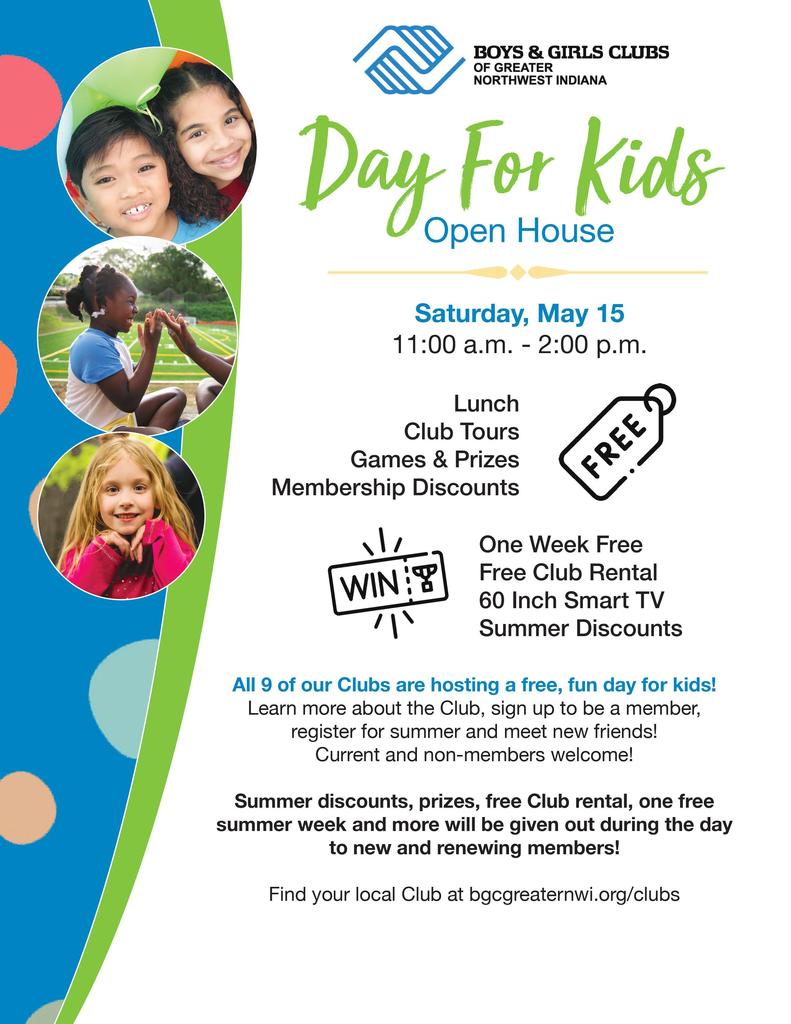 Congratulations to Mrs. Pugh and the River Forest Middle School Academic Team for placing 3rd in English in the entire State of Indiana at Monday's State Finals!
Next Tuesday, May 4th, is a scheduled e-Learning day. There will be no in person attendance and no live video teaching. Students will complete assignments via their Google classrooms bases on a B day schedule. Assignments will be posted by 9am on 5/4.
Here's a great article about the recycling program at Meister. Mrs. Hecht sponsored the program this year and nominated our 3 janitors who help with our recycling program. They won 4th place based on an essay submitted by Mrs. Hecht! Thanks you Miss Dorris, Miss Donna, and Miss Evelyn!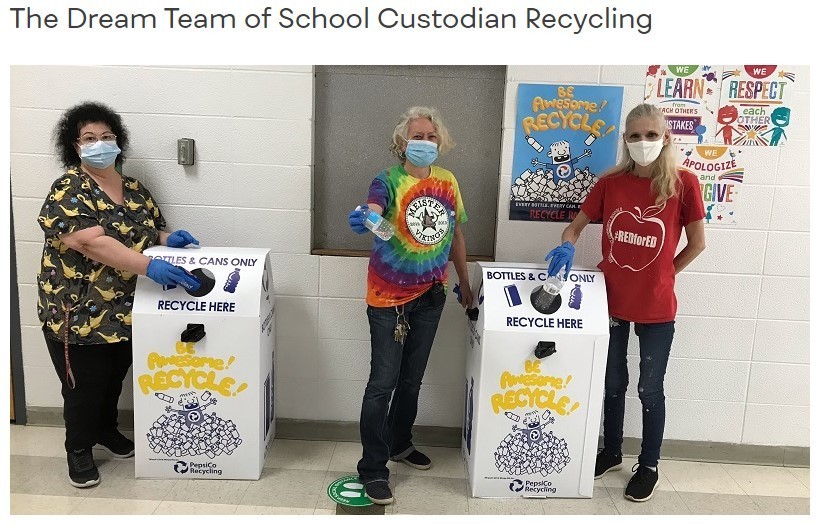 From Mrs. DeRolf: Please accept my apologies- no caps & gowns can be picked up before May 7th. Mrs. DeRolf believed that all products had been received but that is not the case. Again, please accept my apologies and we'll see you May 7th between 11:30 & 1 in the back of building by Door C

Hello RFCSC Families, The Boys & Girls Club of Greater Northwest Indiana - Lake Station Club would like to invite you to join them for a fun-packed summer! Space is limited on field trips. Spots are reserved in the order that payment is received. Field trip opens for registration the Wednesday prior to the week of the field trip. Please see the attached flyer for additional information.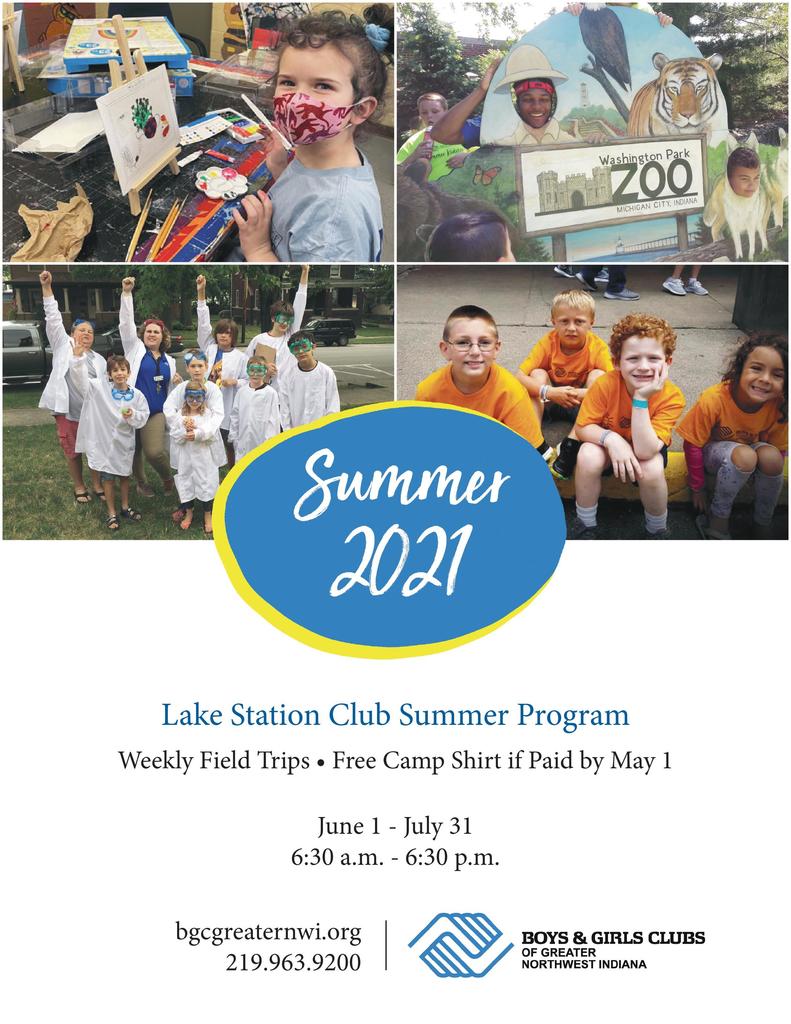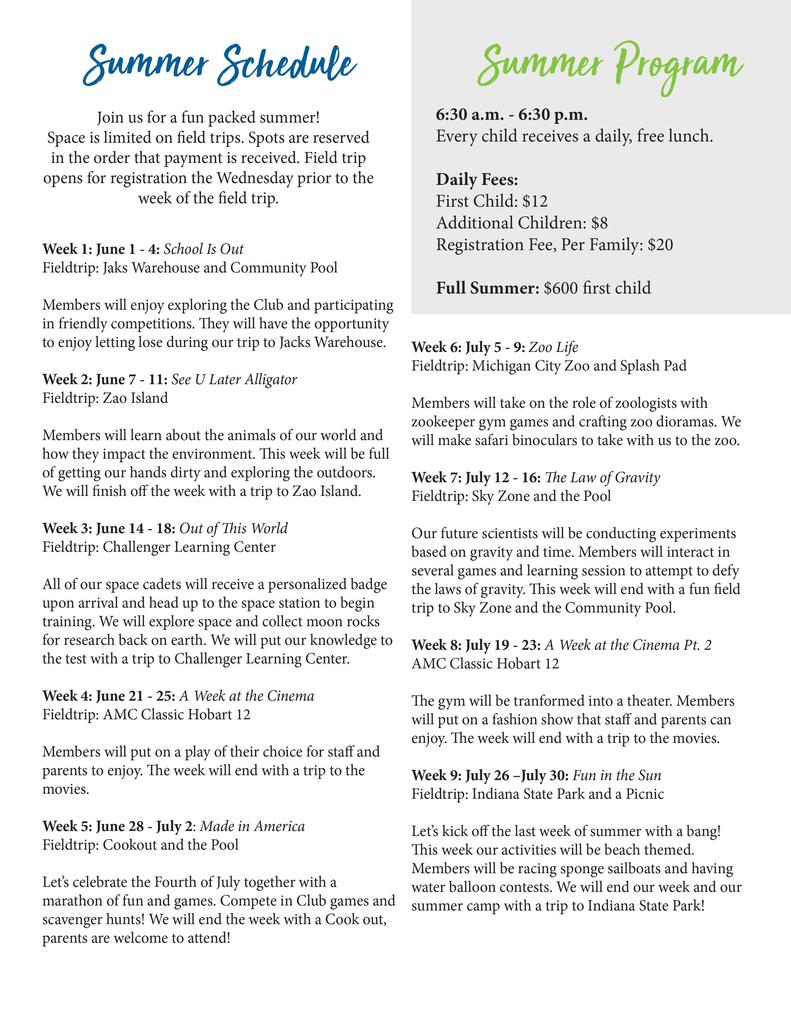 Mrs. Hecht's 4th grade class at Meister designed and submitted a recycle bin for a contest sponsored by Pepsi. WE HAVE BEEN CHOSEN AS 1 OF THE 7 FINALISTS NATIONWIDE AND COULD WIN $2,500!!! Please go on this link, click on our "Moooove to Recycle" Cow, and "Like" it to cast a vote for us:
https://pep.si/3a8fwVk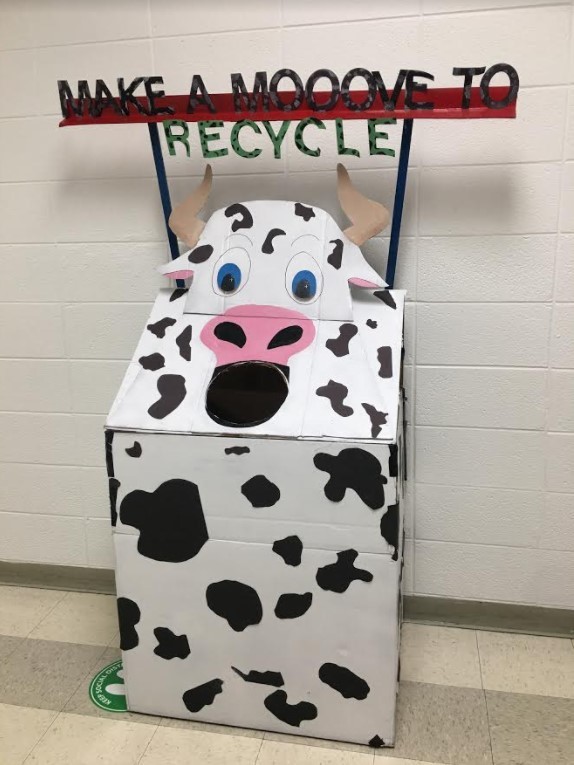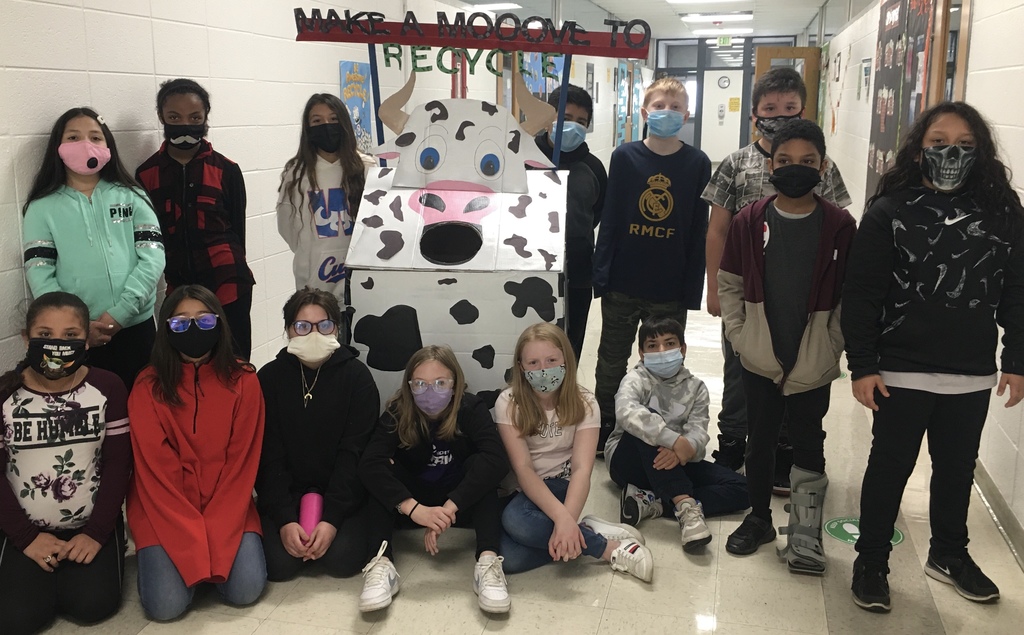 Last reminder that Ivy Tech will be at school to present their ASAP Program this Tuesday during SRT at the RFI Learning Center. Because of Covid restrictions anyone interested MUST contact Mrs DeRolf to RSVP and with any questions.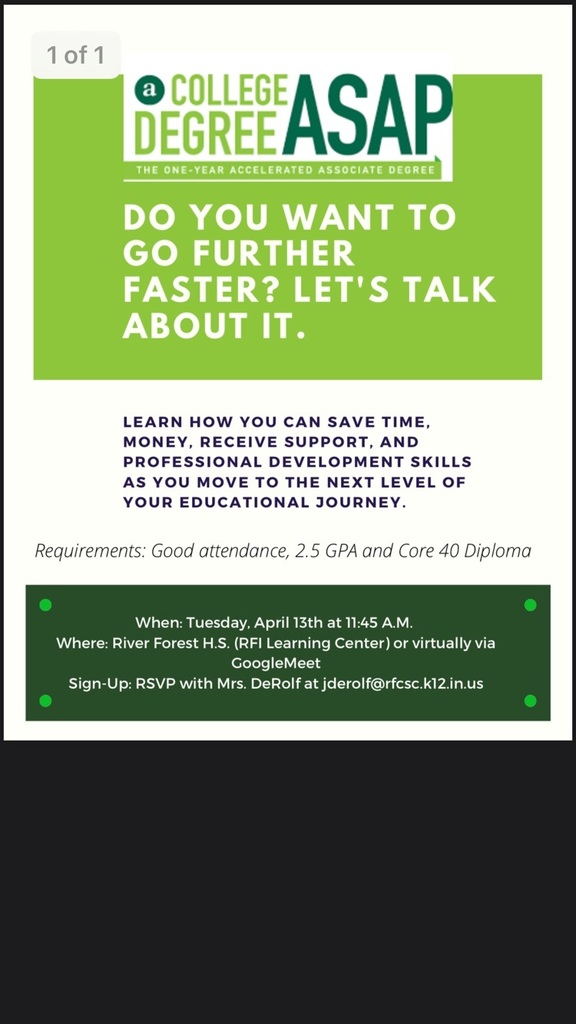 Attention Senior Parents!!!! Virtual students can pick up their caps & gowns on May 7th during SRT, outside near Door C. In-person students who are paid in full- you can get yours from Mrs. DeRolf, please see her in room 205 NEXT WEEK. Statements for those who have not paid yet will be sent next week. If you would like to pay with a credit or debit card that must be done by May 5th and by calling 1-800-JOSTENS or 1-260-758-9673. You may pay on May 7th with cash ONLY. Any questions please contact Josten's or Mrs DeRolf at extension 3101 or
jderolf@rfcsc.k12.in.us
Reminder: there is no school tomorrow, Friday, April 2. Classes resume on Monday, April 5